The Dallas metropolitan area is full of beautiful properties but many of them are cost prohibitive for many people. Those who are willing to live just outside of the center of Dallas have found beautiful, much more affordable homes in the Provence Community of McKinney, Texas.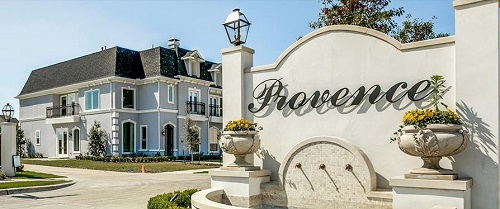 Provence Townhomes
Townhomes in the Provence Community begin at just $370,000, which is a significantly lower cost that similar homes in the heart of Dallas. When potential residents come to visit the model Provence homes, they are stunned at what their money can buy in McKinney. These luxury homes are built from the highest quality materials in a French provincial design with elegant, modern touches. Situated right near Tom Allen Jr. Park and Reserve, the community is private but offers access to many of McKinney's most popular attractions.
In addition to moving into a beautiful home at an amazing price, folks relocating to McKinney, Texas will be proud to say that they live in "The Best Place to Live in America" according to Money Magazine.
Job Opportunities
No matter what industry you are in, there are likely to be opportunities for you in McKinney. Several different Fortune 500 companies house their company headquarters in McKinney and the city is proud to have one of the lowest unemployment rates in the state, at only 4.4 percent. Right within McKinney city limits, there are three large companies that employ a large number of citizens and provide opportunities for a folks with a number of different skill sets. The city is fully committed to maintaining its healthy economy by offering meaningful incentives to companies small and large who choose to do business in McKinney.
Schooling
Not only will the town of McKinney offer opportunities for you, but it will offer plenty of valuable opportunities for your children as well. In fact, McKinney's public schools are ranked among the top five percent in the nation. The elementary schools offer student to teacher ratios as low as 12:1, providing young students with the individual attention they need to set them up for success as they progress through the school system.
The City of McKinney
Of course, living in McKinney is not all work and no play. The town features a gorgeous, historic downtown area that is home to all types of shops, restaurants, and activities. The town square is very quaint and offers a sense of nostalgia that is missing in most areas today. Whether you are interested in antiquing, taking in the architecture or having a drink, there will be something for you to enjoy in Downtown McKinney. Among the shops and restaurants, there is even a winery selling locally made wine. In fact, most of the stores and restaurants found in the town square are locally owned, giving that special McKinney flavor to every experience.
Once you have visited the town square, you can visit McKinney's Chestnut Square Historic Village for even more shopping and local entertainment. On the weekends, Chestnut Square is home to a local farmer's market where you can purchase fresh produce that was grown on farms right in the great state of Texas. Vendors also set up their stands on the weekends, selling everything from food and drinks to homemade crafts. While you're there, you can visit the original homesteads of the men and women who built McKinney hundreds of years ago.
Outdoor Activities
In addition to serving history buffs and shoppers, McKinney has plenty to offer for residents who enjoy spending time outdoors. Towne Lake Recreation center is a popular spot for all kinds of outdoor activities, including beach volleyball and paddle boats. There are covered pavilions that can be used for private events and the grounds are perfect for a picnic on a nice day. If you like to spend time outside with your furry friends, you may want to consider the dog park at Bonnie Wenk in McKinney. The entire park is dog friendly with beautiful trails and plenty of other pups to play with.
For the more serious nature enthusiasts, McKinney is home to the Heard Natural Science Museum and Wildlife Sanctuary. This is a wonderful place for adults and children alike to learn about the natural wildlife found in Texas as well as what they can do to help preserve its beauty. Kids can enjoy seasonal attractions, such as dinosaur exhibits and nature classes. You may even want to purchase a season pass for your family so that you can enjoy everything the Heard Museum has to offer all year long.
Culture
McKinney, Texas is also home to a diverse selection of cultural activities, from museums to the performing arts. The Collin County History Museum is a must-see for anyone who is new to the McKinney area, as it offers a unique insight into how the small town near the big city came to be. The museum is housed in the town's original post office and is staffed with passionate, knowledgeable guides. The Heard-Craig Center houses over a dozen McKinney arts organizations and regularly displays art from some of Texas' most important talents. The McKinney Performing Arts Center is a beautiful, history building that frequently features concerts, plays, comedians and various other types of performance art.
It is hard to believe that there is so much to do in the city of McKinney because it feels like such a small, intimate town. Residents enjoy the security and relatively low crime rate of a small community while also having access to all of the culture, restaurants, parks and other amenities that they could want from a big town.
And if all that McKinney offers isn't enough, residents do not have to travel more than thirty minutes to find themselves in the city of Dallas with everything that it has to offer. McKinney, Texas, with its thriving economy, stellar schools and affordable housing, truly offers residents the best of both worlds. They enjoy the benefits of living in a big city without the unnecessary expenses. The Provence Community offers beautiful, affordable housing for folks who want to take advantage of everything McKinney and the surrounding area have to offer.
If this community sounds like the place you want to live, give me a call at 214-430-8844 and we will set up a tour of the local community and these beautiful homes on the Provence Community! You can also email me at Chris@NorthTexasLuxuryLiving.com.